Roasting at home or basically homeroasting is the effort to be better than your local roaster. Or suit your individual needs.
But to get there its a long way home! Basically first you are figuring out
preselection of beans (defects, pearl beans, mis-colouring)
perfect batch size (in my case 200g is better than 150g in terms of colouring palette)
Ideal duration of the roasting process (probably 12 – 15 min including first & second crack)
temperature control (correlates to colour and taste)
A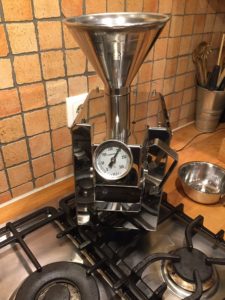 fter doing my first batches with 2 year old beans of the shelf. Thus I started with an arabica monsooned malabar. First batches had been probably the worst due to lack of control of the mashinery.
Roughly 1kg later it was drinkable buy using a Kaletta drip-on and a porta filter (Bezzera BZ10). From now on its about consistency in roasting and finding a suitable type of beans. We will see.